INDUSTRIAL PERFORMANCE
METHODS & TOOLS FOR THE FOOD INDUSTRY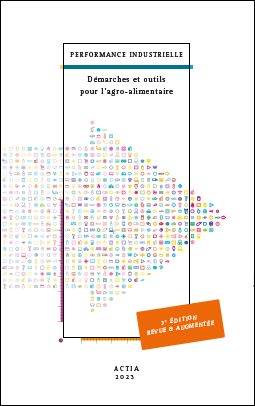 Text in French
Through this work, and as part of their role in technology transfer, the aim of ACTIA's Centres is to give you access to modern industrial organisational methods. 
The purpose of this guide, which follows "Industrial Performance - A Practical Guide For The Food Industry", published in 2004, is to help you to adopt working methods that have proved their worth in cutting-edge sectors like the automotive and aeronautic industries. Since 2004, these methods, which are a product of "Lean" concepts, have become widespread in French food industries. This new guide, which takes this cultural evolution into account, will help you to initiate or boost these continuous improvement approaches. It is worth noting that these tools are valuable allies in the quest for customer satisfaction; they allow the optimisation of your organisational structure to enable high-quality work. 
They are accessible to everyone, from the smallest company to the biggest multinational, the only prerequisite being a desire to improve.

This guide is intended to support the actions rolled out as part of the National Plan for Quality and Performance produced by the French Department for Competitiveness, Industry and Services (DGCIS), which is now making the food industry one of its priorities.
Jade Aronin (Certia Interface), Olivier Fabre (Agria Grand Est), Jean-Michel Leboissetier (Critt agro-alimentaire La Rochelle), Florent Massoulier (Adiv), Françoise Molegnana (Auvergne Rhône-Alpes Gourmand), Benoît Mus (Critt agro-alimentaire Sud).
Alice Dulas (Actia), Benoît Mus (Critt agro-alimentaire Sud)