ORGANIC PRODUCTS
A PRACTICAL GUIDE FOR FOOD PROCESSING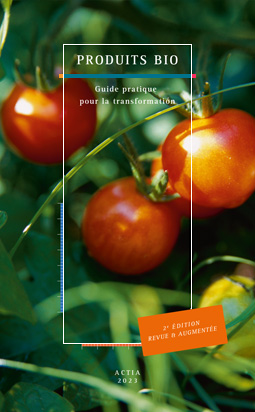 Text in French
Organic farming has seen many improvements since its beginnings, to best adapt to consumer expectations and regulatory changes while preserving its original values. In this changing context, food processing companies need support to launch organic product ranges or deepen their understanding of how to process organic ingredients.
This document – a collaborative effort by the members of the Actia TransfoBio Joint Technological Network – is designed as an operational tool for companies. It features a self-assessment including the main questions that you need to ask yourself when you are about to start processing organic products. It also covers the main aspects of organic processing, with specifics on organic regulations, the market, the accreditation process, procurement, formulation, and processing. The document also includes case studies, practical tools and a lot of data. Food processing companies' sincere commitment to organic farming also takes the form of a continuous search for improvement, and this guide provides information that goes beyond just the strict application of organic legislation and aims for greater engagement as proposed by the founding values of the organic movement.
Cyril Bertrand (Critt agro-alimentaire sud), Philippe Cottereau (IFV), Claire Dimier-Vallet (Synabio), Gaëlle Frémont (Ingrébio), Thomas Habersetzer (Agir), Audrey Lesturgeon (Critt agro-alimentaire sud), Bernard Lignon (Synabio), Marie Joëlle Lozac'h (Énilia-Ensmic), Marie-Agnès Meybeck (Eplefpa Le Valentin), Guillaume Mondejar (Critt agro-alimentaire La Rochelle), Lucile Royer (Critt agro-alimentaire La Rochelle), Paul Vandooren (Adrianor), Rodolphe Vidal (Itab).
Alice Dulas (Actia) & Audrey Lesturgeon (Critt agro-alimentaire sud)