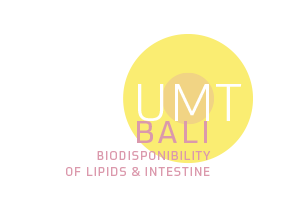 Unité Carmen (Inrae, Insa, Inserm, université de Lyon)
The health food market will be growing over next years, supported by the aging of the population, the development of chronic nutritional diseases and the increasing awareness of the relation between the diet and the health. The French food industry is thus encouraged by the public authorities to contribute to the improvement of the food supply by proposing healthy and balanced products that take into account the nutritional status of the population.
In this context, UMT ACTIA BALI purposes to support the manufacturers of food or food supplements in their innovation process by generating operational knowledges that target the bioavailability of lipid or fat-soluble nutrients (naturally present in vegetable, marine or dairy resources) depending on both their form in the food matrix and the consumer's intestinal microbiota.
This UMT, located in Bordeaux and Lyon, was labeled on January 1st 2017 for a five-year period.
UMT ACTIA BALI offers an original expertise and an integrative approach to deal with the questions about:
the impact of the intestinal microbiota on the bioavailability and functionality of lipid or fat-soluble nutrients with health interest ;
the optimization of the bioavailability of lipid nutrients / active molecules present in fats and oils, or formulated in foods or food supplements.


The work of the UMT BALI will thus contribute to the development of foods or food supplements vectors of lipid nutrients with health benefits, able to appropriately satisfy the nutritional needs of the population.