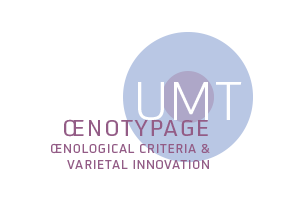 L'Institut Agro Montpellier
Varietal innovation, whose main purpose is to develop disease-resistant varieties, is now taking into account environmental issues such as climate change and the reduction of inputs. However, the development of new varieties is a long process that involves many different people and raises many questions. Furthermore, oenology is considered fairly late in the creation/selection process. And yet, the issue of the oenological screening of these varieties is crucial to meeting expectations regarding their vinification potential. The various approaches to varietal innovation must include oenological criteria in order to ensure they meet the wine industry's main objective, which is to produce wine.

The Actia Œnotypage Joint Technological Unit's purpose is to bridge the gap between genetic, agronomic and oenological research by stepping up research on the integration of oenological criteria in varietal innovation thanks to the "high-speed" vinification of small batches.

The programme of this Joint Technological Unit, based in Pech Rouge, began in January 2022 for a five-year period.
Mastering the high-speed vinification process.
Creation of a sample library enabling the vinification of frozen grapes all year round.
Approval of an automated, small-scale vinification system for red wine and development of such a system for white wine and rosé.

The identification of new, relevant oenological criteria for selecting the varieties of the future.
The definition of new oenological indicators for varietal innovation for each type of wine.
The exploration and characterisation of genetic diversity from an oenological perspective.
The integration of oenological criteria early in the varietal selection process.
Testing of varieties with genetic diversity and identification of their related oenological data.

Research on the effects of abiotic stress on the composition of grapes and wine.
An evaluation of the impact of water and thermal stress on oenological indicators.