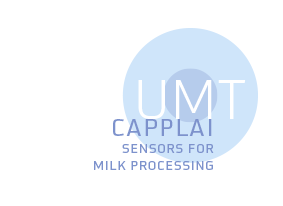 Isba (Énil de Poligny et Mamirolle)
UMR STLO (Inrae, L'institut Agro Rennes-Angers)
Food processing companies, including those in the dairy industry, are increasingly committed to developing the "factory of the future 4.0". Their digital transformation involves, among other things, the uptake of smart equipment for making real-time measurements during the production process. This modernisation of production facilities is a real boon for competitiveness, because it enables manufacturers to improve both their processes and the quality of their products.

The main aims of the Actia Capplai Joint Technological Unit are to design and develop sensors that can be installed on production lines to characterise dairy matrices as well as collect technological indicators.

The programme of this Joint Technological Unit, based in Poligny, began in January 2022 for a five-year period.
Understanding how the characteristics of raw materials impact the production process and, ultimately, the finished product, without forgetting the impact of the process on the finished product.

Development of operational process management solutions (for raw materials and processes) to adapt the process through decision-aid tools or the implementation of real-time automation based on various input data.

Improvement of process efficiency based on information collected (database) and interpreted at various stages – from the qualification of the raw materials to the qualification of the finished product.