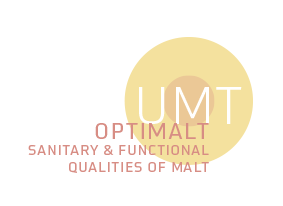 France is the world's first malt exporter. To keep and reinforce this place, the French maltsters should produce high quality malt to cope with more and more stringent brewer's specifications. The challenge of the maltsters is that the quality of the raw material (malting barley) can vary according the crop and the climate. During the process, it is very difficult to fight against moulds development when they are already present on grains. The goals of this TMU are to identify, to select and to technologically validate some starters for the bio-protection of malt during steeping and germination processes.
This UMT located in Vandoeuvre-les-Nancy was labeled on January 1st 2017 for a five-year period.
Observation and characterization of the micro-flora of malting barley
Identification and quantification of malting barley the microflora (yeasts, fungi, bacteria) originating from different cultivation patterns (bio, organic or conventional).
Functional characterization of the most promising micro-organisms
Characterization of the microflora according to the barley cultivation protocols and climate evolution for screening of possible candidates.
Isolation and evaluation of candidates by mixed and pure cultures with the major pathogens and toxins producing strains.
Evolution and evaluation of the starters during malting process
Validation of the capacity of the selected strains to efficiently grow and act as bio controller during malting process.
Study of the effects at pilot plant level.