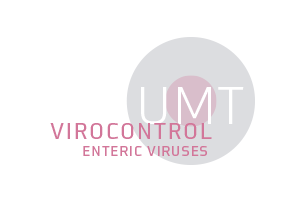 LCPME (CNRS, université de Lorraine)
Enteric viruses are emerging pathogens transmitted by water and food. They are one of the three etiological agents most frequently involved in cases of food poisoning recorded every year in Europe and the USA.
From a regulatory point of view, no criteria currently exist, but methods of analysis have been defined at European level and safety criteria are likely to be requested in the next few years.

The purpose of this joint technological unit is to research, characterise and control the danger associated with the presence of enteric viruses in food and their environment.

This joint technological unit, located in Nancy, started its five-year programme in 2011.
The simplification and improvement of methods for extracting enteric viruses from food and environmental matrices.

The implementation of effective, easy to implement, and economically viable strategies for extracting enteric viruses from food and environmental matrices, which are compatible with current detection methods using RT-PCR in real time.

The characterisation of infection risks associated with a positive detection by RT-PCR in real time.
The development of approaches and/or tools for characterising the infection risk associated with a positive signal by RT-PCR in real time. These tools, which are more suited to infection risks, must facilitate its management by professionals and the authorities.

The deepening of approaches relative to the determination of the virucidal effectiveness of technological treatments.
The acquisition of know-how on the interfacial properties and the behaviour of enteric viruses in complex environments in order to define the mechanisms and levels of inactivation associated with different technologies (virucidal impact of food technologies for their optimisation).